A.I. News: Robot butler goes nuts. "All I did was ask for my usual coffee, one part Arabica, one part Gojo, one part Columbian, with a dash of Wal-Mart instant, two parts fat free Soya, one part whole milk, a dash of vanilla, two parts a dash of hazlenut, all at exactly 74 degrees, at an angle of 36 degrees, with one part cinammon sprinkle, and three parts low fat chocolate flavour chocolate topping lo-cal, and the bloody thing called me a son-of-a-bitch and went berserk", the owner explained through the door of a broom cupboard in his basement. "I'll be drinking tea from now on, pal ".
Reuters News Just In:
The last "Extinction
Rebellion"

protester
gets eaten by

the last
Polar Bear.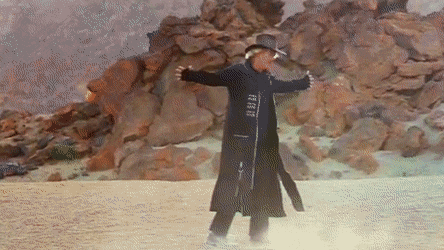 ...a beautiful, recently conceived short film, designed, photographed, directed and executed by Scottish born visual effects supervisor Steven Begg, with suit costuming by Scots-born designer Christine Overs. Steve's work is always truly wonderful and technically immaculate.
I love the spirituality in this piece.
Jon Sorensen